Venette™ Retractable Insect Screens are the next generation of screens, with modern pleated mesh to keep out the bugs.
The construction of the screens use only the best Japanese manufactured polyester pleated mesh material  – which retains its shape while a series of high quality Kevlar™ cords tension the screen preventing blow out in windy conditions.  Venette screens have a discrete finish that is semi-translucent, keeping out the worst bugs such as flies and mosquitoes, without ruining the view.
NO GUIDE CHANNEL:
Venette™ Pleated Screens install flat to the floor on a 3mm high PVC strip, so there is no guide channels to trip or step over.
This makes the Venette Pleated Screen ideal for situations where wheelchair access is required.
VERSATILE WITH A VARIETY OF CONFIGURATIONS:
Unlike retractable screens Venette™ Pleated Screens are not spring loaded, so they park in any position along the track and moves back and forth with just the gentlest of touches. Doors may be stacked in a variety of configurations, to easily screen openings up to 9 metres wide and 3 metres high.
VENETTE™ INSECT SCREENS SUITABLE FOR: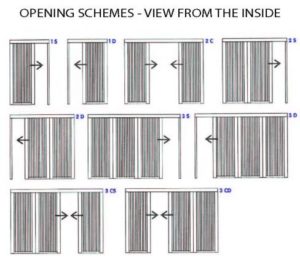 Hinged Doors
Sliding Doors (including multi panel stacker doors)
Bi-fold Doors
French Doors
Patios and Outdoor Dining areas
Verandahs
Custom made in New Zealand in a wide range of powder coat colours in a choice of single, double or multi screen options.