"Please do your homework! Panic will not save you now. No point in begging and pleading.
I don't mean to lecture and I know you are exhausted from the entire process. Carpet, tiles, timber, paint colours – you mean I should choose a different colour for the ceiling as well as the walls?
And all this is after you have chosen the exterior cladding, the roofing, the joinery, will this ever end?
Please do not stop until you have chosen your window furnishings as well. All to often we have clients that have put all this effort into their beautiful new home or renovation and not given consideration (or budget) to what is required for the final touch".
Tracey Harvey, Interior Design Consultant
Window shape and placement is critical. Corner butted windows, high windows and shaped windows can be complicated to cover and there are limited options.
Automation? You should include this with your electrical plan and make provision before the gib goes on. There are options that can be retro fit but give yourself the choice.
• Ceiling mounted drapery? Plan this with your builder as you will need mounting timber or joists in the correct place.
This also applies if you want your tracks mounted well above the architrave.
• Shutters or blinds inside the window and door frames? Consider this when choosing your joinery handles and opening configuration. Not all options work together.
For example some ranch slider handles are so large they can restrict the drop of an inside fit blind.
• You're moving in When? Gasp! Aim for minimum of 10 weeks ahead if you are considering drapery, automation or Shutters and 4 to 6 weeks for blinds. Delays can occur that are out of our hands but we will work with you towards a happy result.
• Congratulations! You have chosen your flooring and colours and now you are ready to choose your window furnishing.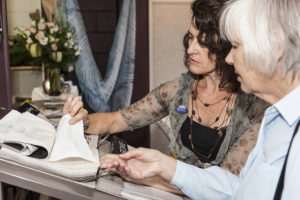 Visit the Frazerhurst Showroom and bring along paint swatches, flooring samples, photos of furniture and art works, cushions or duvet covers – anything that can help with collecting a concise range of fabrics and samples for a successful site visit.
The last step for a professional finish to your project is the site visit: This is best performed when the gib is up and the carpet is down. Final measurements are critical for floor length drapery.
Visit the Frazerhurst showroom early in your -planning. Talk through your options with a team member and view our comprehensive range.
146 Lower Dent Street, Whangarei.
e