Weathermaster® Rollershades from Frazerhurst are a huge favorite, thanks to a winning combination of style, value and flexibility. You'll find the solution that's just right for any style of
interior.
They deliver exceptional value for money over their lifetime because their simple styling means they don't have to be replaced when new decorating trends come along. Weathermaster® are quality New Zealand-made to suit New Zealand conditions and have a five-year guarantee!
So what are your choices?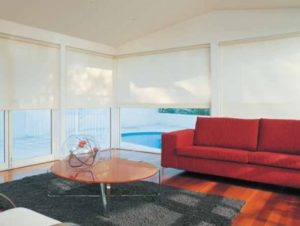 Light filtering is a smart choice if you want light and privacy at the same time, such as in a bathroom.
Choose a Blockout fabric if you want darkness and privacy. For bedrooms, you enjoy a better night's sleep when your window coverings don't leak light around the edges. With blockout fabric, installed with side channels to ensure a snug fit, your sleeping space can stay dark until it's time to wake.
Sunscreens shade the sun and glare, while also offering a certain level of daytime privacy and you can still see the view. Kitchens and conservatories often only need sunscreens.
Dual bracket systems offer the convenience of a sunscreen or light filtering and a blockout in one window.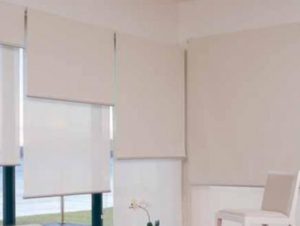 For living areas, dual shades are perfect. Weathermaster® have linked systems for spanning extra-wide windows and doors and a special clutch mechanism that makes it easy to raise large shades.
Wet environments benefit from window coverings treated with Duraguard®, a stain repellent, and if there are dust mite allergies in your family, Sanitized® fabrics are available.
Child safety is a critical issue that has been addressed with specific safety devices, such as child-safe tensioners to eliminate the risk of strangulation on cords.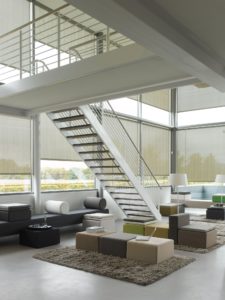 Weathermaster® Rollershades can be automated for hard-to-reach windows. If you have an atrium or foyer window that's way beyond your reach, an automated Rollershade is an ideal solution. Shades can be raised and lowered using a remote control or with a Smart phone application. Choose from the traditional hard-wired method, Q-motion battery operation or with a solar rechargeable system.
Join us in the Frazerhurst showroom to view your options.