When you are in desperate need of sun protection through your windows but really don't want to block out that view of the garden, or you want a bit of day time privacy from the neighbours without making the house dark, then you have a few options of sheer, nett or mesh fabrics in various opacities to choose from.  However, if you also need that window to be completely dark or private at night then you will need a fabric that has blackout properties.  Read on to see what your options are for dressing your windows to give both day and night satisfaction.
Dual Roller Blinds
The Weathermaster® Twin Bracket System allows you to combine the functionality of two different Roller Blinds in one window so you can have daytime screening or filtering and night-time privacy.
Weathermaster® Roller Blinds can be manual or automated so you can raise or lower your window coverings with ease.
Double tracks
The ultimate in luxury and functionality. A great option for visual warmth as well as literal warmth.  Pick a decorative sheer fabric for the front track for an 'on trend' approach.  Frazerhurst recommends having the rear track cord drawn.
VeriShade XT®
A Stylish Statement. Take advantage of beautiful light control with Weathermaster® VeriShade XT™. The individually curved fabric vanes feature an alternating light filtering and room darkening fabric panel. When opened, enjoy daytime privacy with a soft view.
Easily adjust the level of privacy and light to suit your requirements by rotating the fabric vanes to angle the amount of light entering the room. For room darkening, close the shades completely.
Shutters and Venetians  – Interior or Exterior
Weathermaster ® Timber, Polyresin or Aluminium.  From 25mm up to 114mm vane widths. Each option has it merits and one will often be better than another in a given scenario.  What they have in common is style and function.  By a mere tilt of the vanes, you can control the level of light and privacy required at any time of the day or night.
Verticals
EOS Helix Vertical blind systems by Weathermaster® are suitable for a wide range of applications and are characterised by their flexibility, durability and the efficient versatile solar protection they provide. Classic function and form.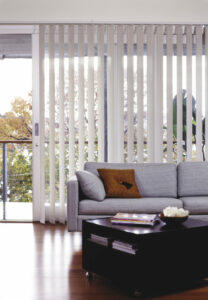 Frazerhurst Curtains and Blinds – double duty: Quality product at Competitive prices at
146 Lower Dent Street, Whangarei.